Programme Autumn 2018
Active Ennis Leisure Complex is a great place to help you get fit, stay healthy and have fun, all in one place.

Pool Timetable 2018
Children's Swimming Lessons
We take children for swimming lessons starting from aged 3. From confidence building through play to lane swimming, our swim lesson program is aimed to target all abilities. All our teaching is accredited to Irish Water Safety.
As well as a 7 week program, we also run intensive lessons during school holidays. These have been proven to greatly help children to progress their swimming skills in a short space of time.
Class Times:
Weekdays from 4-4.45PM
Weekends from 10AM, 11AM and 12PM on Saturday and 10AM and 11AM on Sunday
Next Course:

Next course commences start of November.  Contact reception on 065-6821604 for booking details.
Cost:
€65 for 7 weeks
Any additional siblings €60
Contact 065-6821604 for further information.
Halloween Activities for Kids
Halloween Activity Camp and Intensive Lessons will be running for the week 29th October – 2nd November 2018
The Halloween Camp is Monday to Friday 10AM-1PM. This will include a swim lesson, supervised play time in the pool, organized games in the Aerobics Hall, a trip to Tim Smyth Park & Lees Road (weather permitting), Arts&Crafts and an end of week party.
Cost: €60 per child for the week.
Intensive Swim Lessons  –  Monday-Friday 11Am-11.45AM. Levels of classes will be Beginners, Improvers 1 and Improvers 2.
Cost: €50 per child for the week.
 Adult Swimming Lessons
Our adult swimming lessons cater for all ages, it is never too late to learn to swim! We cater for a complete beginner/improver/advanced level.
Learn the water confidence in our beginner class, while in our improver level, you develop a better stroke and technique and in our advanced level your fitness level improves with lap swimming, using various types of equipment.
Class times: Thursday 8.45-9.45PM
Cost: €70 for 7 week course.
Next Course:

Next course commences end October.  Contact reception on 065-6821604 for booking details.
Fitness Classes
We have a wide and varied range of fitness classes commencing in September (please call us on 065-6821604 to confirm start dates).  Whatever your age or ability, we have a class for you!  We offer bookable courses or else pay-as-you-go classes.
Aerobic Class Schedule and Gym Opening Times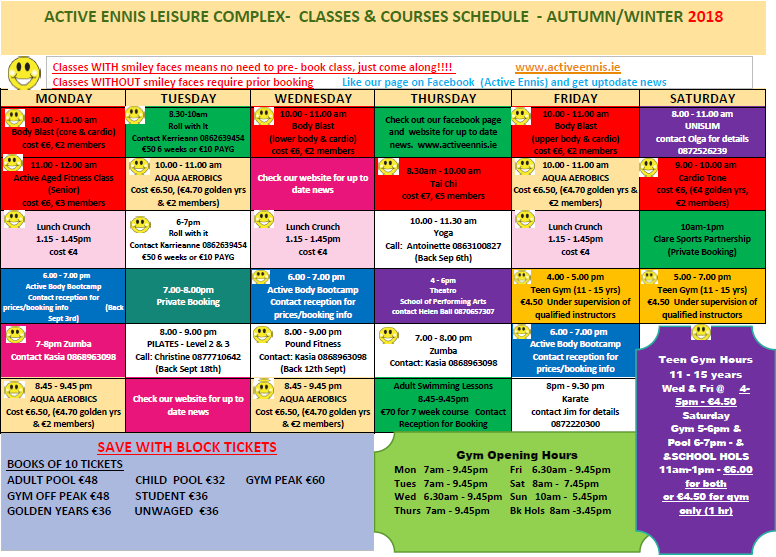 Click on the classes below to find out more.