****COVID 19 UPDATE****
Hello all, YES WE ARE STILL HERE and operational under Level 3 guidelines. If you have been with us since July 6th 2020….Everything is the exact same.
Those guidelines are that Leisure centres and Swimming Pools remain OPEN for INDIVIDUAL TRAINING ONLY.
The Swimming pool remains the same i.e Changing facilities and showers are still available but no sauna or steam room. The gym is open with no showers, Sauna & Steam or changing Facilities available.
So Still NO FITNESS OR SWIM CLASSES allowed indoors under the restrictions. When they do return we will of course be in contact.
Our COVID timetable remains the same.
Book and Pay for your 1 hour slot in the Gym or Pool over the PHONE ONLY. 065 6821604.
Please continue to wear your MASKS INTO RECEPTION, until you begin your Activity.
Regarding our OUTDOOR FACILITIES, all our playgrounds and parks REMAIN OPEN.
Pitches (which must be prior booked), can only be used for TRAINING ONLY. In pods of 15, which includes your coach. ABSOLUTELY NO MATCHES, friendly or organised permitted.
Thank you.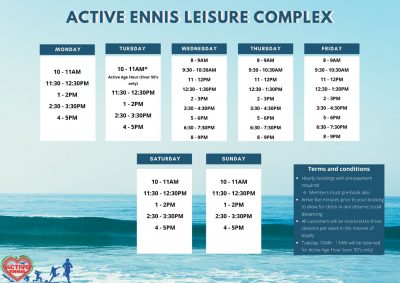 Stay Safe & Stay Active
.