Kilrush Sports Complex
Astro Turf Pitch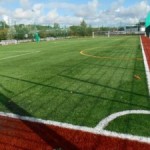 This floodlit, secure artificial playing surface at Cooraclare Road is available for multiple sports to meet the fitness and competition needs of the area's clubs.
It is of advanced specification, using third generation carpet monofilament to meet FIFA 2 standard. Dimensions are 75m X 38m, giving a playing area of 2850 square metres with surrounding 1.2 metre footpath, ball stop netting and mesh paneling. It is fully lined but can be partitioned into three sections, using ball stop netting, for training and small game activities.
The pitch is in high demand by sports clubs, schools, teams and other local organisations for a wide range of team sports.
Gallery Park Pitch & Running Track
The 'Gallery Park' Pitch is a conventional grass pitch of 100m x 70m, which caters for the local soccer clubs and Leagues. The Park also boasts a 400m running track which is extensively used by local athletic clubs and schools. The facility includes on-site changing rooms.
Booking & Pricing Details
Charges as follows:
€50 per hour for 1/3 of astro turf
€100 per hour for full astro turf
€50 for 2 hours for Gallery Pitch
€25 per hour for running track.
Kindly note that all bookings must be made online or pre-paid by calling 065-6821604.



Cappagh Playground
Cappagh Playground is a newly refurbished Playground facility incorporating a kids play and teen play equipment. There are 11 units of play equipment to entertain and challenge the young of the community. The Junior Play equipment includes swings, springers, play panels and multi-play units whilst the Senior Play equipment features a cable ride, carousel, swings and multi-activity unit.
Junior Play Equipment
 › Swings
 › Multi Play Unit
 › Springer (1 seat)
 › Springer (2 seat)
 › Seesaw
 › Tactile Bowl
 › Play Panels
Senior Play Equipment
 › Multi Activity Unit
 › Cable Ride
 › Swings
 › Basket Swing
 › Carousel